AlsoEnergy has developed a plant control technique that enables each inverter to dynamically respond to conditions while maintaining limits at the POI
White Paper Compares Control Techniques for Utility PV with Curtailments
There are two commonly used plant control techniques deployed for utility PV projects with curtailments. AlsoEnergy has developed a new plant control technique we call Dynamic Energy Harvest Optimization. We are releasing a white paper that compares yield results of these three strategies using lab simulation testing.
One technique to meet interconnection requirements is to hard code all inverters to never exceed curtailment limitations. The other technique uses the plant controller to manage inverter output by groups, thus ensuring that limitations are not exceeded at the point of interconnection (POI). AlsoEnergy has developed Dynamic Energy Harvest Optimization which enables each inverter to independently respond to conditions while maintaining limits at the POI.
Dynamic Energy Harvest Optimization is a flexible control technique allowing inverters to ramp independently as fast as technical specifications allow while maintaining systemwide limits. This is achieved using proprietary algorithms which we configure in our RTAC based plant controllers. With Dynamic Energy Harvest Optimization, the power plant controller sends a closed-loop control signal to all the inverters to ramp, then measures if each inverter actually ramps as directed. If one responds too slowly for any reason, perhaps due to shading or because it's offline, the controller signals additional capacity for other inverters to increase power output until the system reaches its ramp rate limit. By continually tracking individual inverters, the system delivers an automatic response anytime a single inverter becomes resource constrained.
Using Simulink, a MATLAB-based graphical programming environment, and the simulation tool SIMUL8, AlsoEnergy compared the performance of 3 different control models: inverter-based control, POI-based control with group set points for inverters, and Dynamic Energy Harvest Optimization. Our test simulated variable cloud conditions to understand how each control technique reacted to situations where some portions of the array are shaded while other portions have full sunlight.
Lab simulation results comparing yields over about a 2 hour window with variable cloud conditions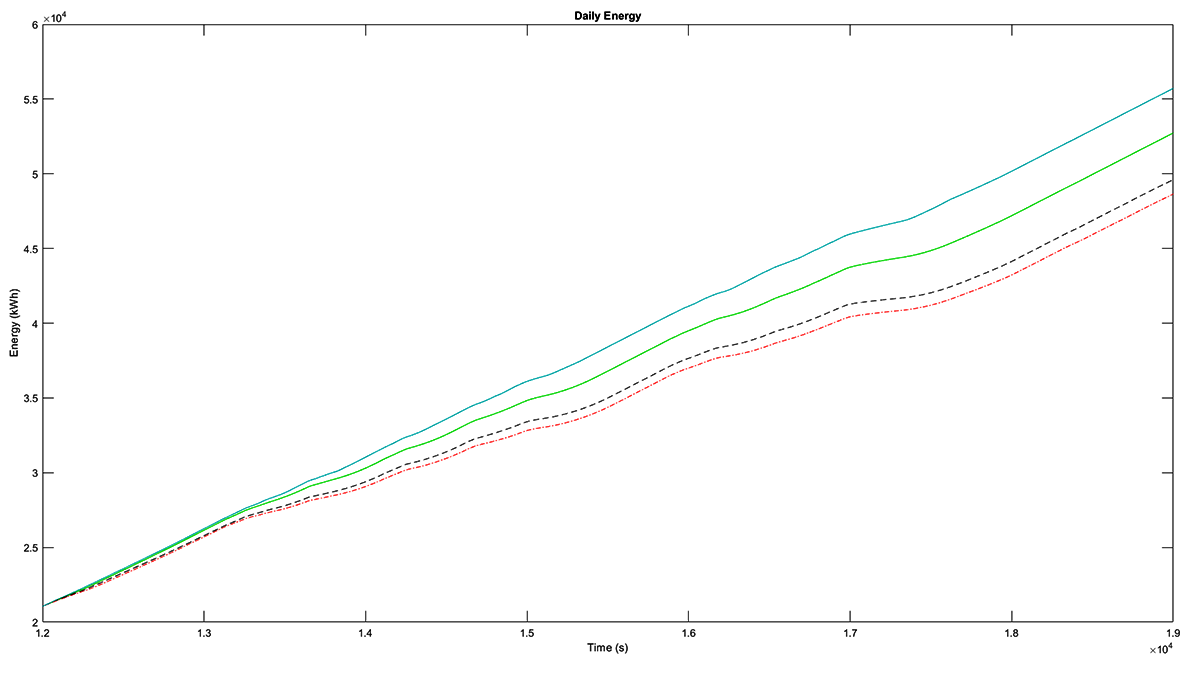 Choice of control technique can have a significant impact on production
Our simulation proves that the choice of control technique can have a significant impact on production. The figure above shows the difference in yields over about a 2-hour window with variable cloud conditions. The blue line at the top represents the lossless ideal for array performance. The dashed red line at the bottom represents the inverter-based control model, and the dashed black line represents POI group control. The green line represents results for Dynamic Energy Harvest Optimization. In the White Paper we quantify these yield optimizations with bottom line dollar values.
This white paper will be released in early June. Click to register to receive an email with a link to the white paper.